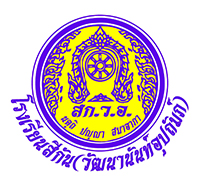 The school symbol
Semadhamajak means source of wisdom
Thai painting means the beauty of moral
School's motto
Belief, diligence, and wisdom
School's identity
Having good deed, wisdom, and volunteering
The school's unique
Be clean and well-organized every day
The school's standard
Good personality, generosity, outstanding ability, leadership, and high moral
Colors of school
Yellow means intelligence
Purple means Braveness and endeavor
School's wisdom
Organization of learning coupled with moral along with volunteering Buddhism Oriented School, developing to world class standard on the basis of Thai
School's history
In 1964 when the Donmuang area was uncultivated fields, Tian Wattanunan strongly believed that education was very beneficial for Thai youth and descendants of the Donmuang area. He donated 1,294 square meters of his land to the Department of General Education for 8 rai so that the Ministry of Education could establish a school for the Donmuang community. At the time there was only an elementary school authorized by the first director, Ms. Praiwan Chansuk.
In 1977 the Department of General Education issued an order for Seekan (Wattananunun Upathum) school to be turned into a secondary school. This was supported by the Secondary Division, Department of Education and Ministry of Education.
Presently Seekan (Wattananunupatum) is under the administration of the school director, Dr. Surawut Yanyuluk. He begun developing the school's education in the 2016-2017 term. In order to be a great school, Seekan is committed to quality and excellence supporting the schools motto of belief, intension and wisdom. The director also supports Seekan's identity as a Buddhist Oriented school through good deeds, wisdom, and volunteer works.
Additionally, Seekan (Wattanun-upatum) has developed basic education with world-class standard quality to support academic excellence, bilingualism, thought system development, creativity, and a responsible mindset towards society and the environment. Education at Seekan also focuses on a heightened sufficiency in philosophy promoting students' knowledge, ability, discipline, morality and virtue in line with the Thai Buddhist orientation. The school is greatly supported by society and recognized in the learning community. It takes pride in its many awards from several competitions such as the following:
Guaranteed rewards
Awarded the gold medal for the French Impromptu Speech Competition
International Honorary Awards for the Applied Science Project presented to lower secondary levels
The Chinese program's scholarship recipient for a bachelors degree at Beijing university and Guangzhao university in China
The Japanese program's scholarship award for the student exchange program at the Generis 2.0 language beat in Japan
The best French teacher award rewarded to Mrs.Porntip Tomorn, a teacher in the Foreign Language department.
International Buddhist Oriented and Volunteer Project Schools award presented by the Office of Basic Education Commission
Energy Mind Award for the best school of energy from the Electricity Generating Authority of Thailand
National winner of Her Royal Highness Princess Maha Chakri Sirindhorn's award for reading and listening in the lower secondary levels
Region gold medal winner of the miniature garden award in the lower secondary levels
Region gold medal winner of the fruit carving award in the upper secondary levels
Region gold medal winner of the country music band award in the secondary levels
Region gold medal winner of the chorus singing award in the upper secondary levels and many other awards
Seekan's previous awards show our students high standards for good personalities, good minds, outstanding abilities, leadership and great moral character, thus encouraging Seekan to go forward in quality and excellence with pride.